Monday, May 17, 2004
What *should* have been posted yesterday, if I hadn't been so *rudely* interrupted by a malfunctioning C drive...
When the sun comes out, so do Witho's toe rings!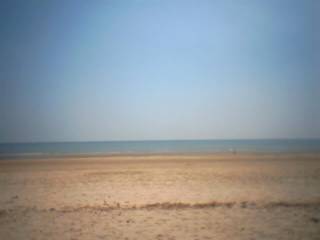 Greatstone Beach, Kent, where we spent Sunday morning - this was followed by Fish 'n' chips for lunch (well, I had a chip roll (or "chip barm" if you're a Northern-UKer)
The Big Fella, chilling on the beach... after lunch, we went on the Romney/Hythe/Dymchurch miniature railway. I was a bit concerned that we wouldn't fit into the carriages, since the pair of us could be described as "hulkers", but needn't have worried...
When the BF suggested we go for a picnic, I was envisaging sitting on a rug in the local park eating a soggy old sandwich - when what he had in mind was something quite different - to whit, the above...
I was quite surprised - it only took us about an hour to get down to the coast, and the beach was lovely (as per photo above).
PCs
Now, before you say "B-b-but Witho, I thought your PC wasn't working", I've reverted to the BF's laptop (or should I say the school's laptop...). It's all very complicated. Between the BF and myself, we have no less than 4 PCs, all of which have some sort of "issue", the details of which I shall now divulge, dear reader:
My PC. A desktop. Quite old, extensively fiddled about with "upgraded" by my dear brother and handed down when he bought himself a decent nice new one. It's got a nice TFT screen (provided by myself) but the USB ports don't work.

BF's PC. Modem doesn't work, so we can't use it for interwebbing, but it is connected to our laser printer so is used for BF's school work which he wants to print out at home (or my job applications, letters to councils etc....)

BF's school laptop. A great little machine, except we don't have a USB printer lead to attach it to the laser printer yet, so can't print from it, and plus it doesn't belong to us, so we can't become too attached to it.

BF's Mac - one of the schools he worked at was Mac'd up to the hilt, so he decided to comply. It's one of those old ones with the teenie screen.

Yes, readers, I can hear you screaming "consolidate", and consolidate we will, preferably before we move down to Taunton - hence buying a new PC which can do all that we need it to...
Coming soon to a Dear Witho near you...
Why Nationwide thought I was two separate people

Why I was described at work as "a firewall"

What I thought of the Aileen Wuornos documentary
---