Wednesday, October 20, 2004
You called the shot #2
Legomen
wanted to see all of my shoes. Now, I think that for a girl, this is quite modest... you may think otherwise!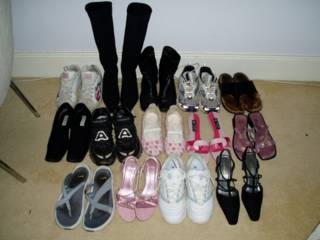 Back row, from left:
Flame trainers, black pointy sexy boots, black non-pointy non-sexy boots (these were from Witho's "ancien régime"), running shoes (not pretty, but boy, are they comfy!), stupid black suede flip-flops which fall off all the time.
Middle row, from left:
Black flat work shoes (boring, but functional and I can walk in them), Acupuncture trainers (4 years old, so comfortable that I find it hard to chuck them out), "strawberry" canvas pumps, silly pink shoes (love 'em, but they rip my feet to shreds), flower sandals (they look better on).
Front row, from left (you're getting the idea now, aren't you?):
"Sports" flip-flops, pink shoes (worn once, for a wedding), tennis shoes (hardly worn - they give me blisters), black strappy pointy shoes (for special occasions).
I just love those long, black pointy boots at the back - some shoes just make you feel sexy, and I bought these at a time when I was just starting to feel sexy again... Trouble is, I don't wear them enough - they are *so* uncomfortable...
So, Leggy, what does that lot tell you?
---