Friday, October 22, 2004
You called the shot #4
Elsie
may remember that she requested a lookie into my cupboards (not my drawers, mind!) - specifically the cupboard immediately to the right of my fridge. In truth, to the right of my fridge there are two cupboards - one at eye level, the other below the worktop. I, being a generous soul, have provided both...
The "upper saloon" (to use double decker bus nomenclature) incorporates a selection of non-perishable foodstuffs, notably tinned kidney beans and chick peas, biscuits for cheese (TUC biscuits, NO-NO crackers, that kind of thing), golden syrup, tinned tuna and mackerel, rice (basmati and risotto), penne pasta (for emergencies - I prefer rigatoni and buy it by the kilo where possible, but this goes in a big storage jar), lasagne, bulgar wheat, cous-cous, some sauces (e.g. Worcestershire, brown - these were inherited from the Big Fella's flat), seeds (sunflower, sesame, pumpkin?), pine kernels, more tuna, black olives, vegetable stock, sun dried tomatoes, green olives, black peppercorns.
The "lower saloon" is much less interesting, containing a selection of crockery and some wine glasses. I hate the fact that these are stored at below-worktop level, as I have to bend over to get them out, but there's nowhere else to put them...
Meanwhile,
petite anglaise
(one of my newly discovered blogs - she lives in France with a French bloke, a description which was true of me some years ago, until said French bloke dumped me rather unceremoniously - much subject matter for a future post, methinks! Hence, reading her blog brings back some bittersweet memories... I digress) wasn't interested in what was *next to* the fridge, she wanted a peek inside the thing itself!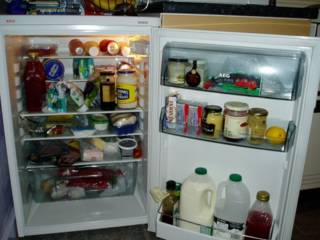 I could talk you through the contents... but I won't. If you have any questions, do let me know!
---