Wednesday, November 10, 2004
Miscellanea
The bad news
The Big Fella and I can look forward to another weekend of farcical train travel. Our mission - which, unfortunately, we've already chosen to accept - will be to attempt to get from Taunton to Milton Keynes. Now, we had the choice of going via London (First Great Western) or Birmingham (Virgin Trains). Bearing in mind the
last journey
we had the displeasure of making using Mr Branson's sorry excuse for a train company (for which, I might add, we were reimbursed to the tune of £77.00 after a "Witho special" letter of complaint), you can appreciate why we chose to go via London, despite the obvious hassles of changing from one terminus (Paddington) to another (Euston).
Then
this
happened...
*deep breath*
During my quest to discover the fate which would await us on Saturday as a result of the crash, I ended up slamming the phone down on National Rail Enquiries. Well, when I say slam, I mean I pressed the red button with some considerable force (it being a cordless phone) but slamming sounds so much more melodramatic.
Why would I do such a thing? Well, they are now an Indian Call centre, if you didn't know. Let's just say that both parties found it difficult to make themselves understood during that conversation. I don't often slam the phone down on people, which is an indication of how futile a conversation this was... I ended up phoning up the train company itself, but they still weren't sure of how badly our journey would be affected.
The upshot is, even if we decided to change our ticket and go via Birmingham, we'd still have delays on the Birmingham line due to engineering works.
Let's just see what happens, but I'm guessing I'll have something to blog about on Monday...
The Good News
Yes, I know that this is the kind of thing only someone over 30 would be excited about, but vanilla pods! At 10p!
Needless to say, I cleared the shelf...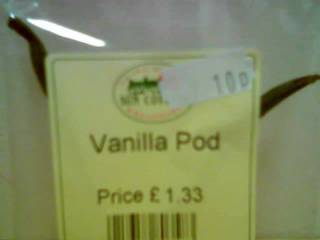 ---