Monday, January 24, 2005
Things to make you go "Ooo!"
My nephew:

Now, I usually make a rule not to post pictures of my family without their permission. The thing is, no-one's going to think "Hang on, I know that little guy. I saw him walking down the street the other day!" or "He works in the same office as me". He's a baby - he looks like many other babies and will do for some time to come (though I'm sure his mother thinks otherwise!)
Me and babies - a weird one. In my twenties, most of which was spent in two serious relationships, I knew I wanted children. With T, they would be half-British-born Pakistani, bilingual in English and Punjabi. With F, they would be half-French, bilingual in English and French. We would probably be living in France so it would be up to me to ensure that their English was up to scratch. What was never in doubt was that they would "be".
As I approached my thirties, reluctantly single, desperation began to set in. I was running out of time. I even got back together with F and the biological urge was as strong as ever... he cast me aside for the second time and that time I finally realised what a w*nker he was...
Then my thirties came. People around me started to have babies and I saw what happened to their lives. Yes, I also saw the rewards they experienced from parenthood, but mostly I saw how the child took over their existence and dictated their lives. I've taken a few wrong turns in my life. I'm not where I want to be, yet. I'm not ready for children. I met the BF at 31 and realised that I want time with him, just the two of us. Luckily, he feels the same.
By the time I decide that I am ready for children, it might be too late. That thought doesn't scare me anymore...
Meanwhile, in Witho's childless universe, meet the new addition to the family: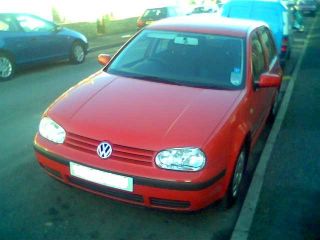 Hmmm, she's very red. Probably too red, if what you really want is black (la Witho always wants black). But everything else about her was right, I didn't have a lot of time to search, and she drew me in. Well, it's got to be an improvement on the old one which was, to put it kindly, "metallic mustard"...
---