Thursday, April 07, 2005
Witho plans her journey
Okay. I'm travelling from Taunton (Somerset) to Petersfield (Hampshire), a distance of 117.9 miles. I'll be departing on the Saturday afternoon, returning on the Sunday. Let's have a look:
Hmmm, not too bad. The 15:30 means less time spent on the train, but ultimately the 13:01 gets us there earliest. Note to self: take book, mp3 player and something to eat. It's going to be a long one!
Now, the return: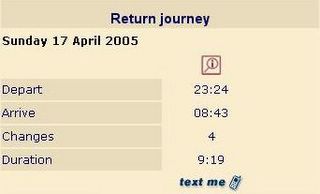 Sorry? Didn't quite catch that.
*clicks on "Earlier train"*
*notes that no earlier train is displayed*
So you're telling me that the only train back to Taunton on the Sunday leaves at 23:24 and arrives in Taunton at 08:43 the following day?
*clicks on "View Details" - just for a laugh*
Nah...
"BF! Load up the car, love, looks like I'm driving..."
---